Information about citronella
Citronella is an herbaceous plant that grows in the tropical and semi-tropical wilderness. After conducting many researches, scientists have come to conclusion that this type of plant can be used as seasoning in cooking as well as herb in the medical field. The species is planted and cultivated in many Asian countries including Vietnam. In Vietnam, citronella can be found in many regions across the country due to the fact that Vietnam's climate and soils are perfect conditions for the strong growth of citronella. The plant has strong roots and if cultivated correctly, the plant can grow really well in a short time. Especially, there are sweet and aromatic scent as well as a great deal of oil in its trunks and leaves Thanks to the distillation method, people can extract healthy organic substances that can be used for medicinal and cosmetic purposes.
Moreover, 2 major substances of citronella are geraniol and citronellol. They have 85% of citral and work as mycrene, a substance used for sterilization. For that, citronella is usually used to make pain relievers. In addition, people also make soap out of this plant because of its sterilization ability.
In conclusion, citronella has many effects that can better one's life.
Using as seasoning
Citronella has longed been the indispensable seasoning in many Vietnamese traditional dishes. For its aromatic scent, it can enhance the smell from dishes as well as remove fishy and unpleasant smells. Add citronella into your dishes and you will have a tasty and healthy meal.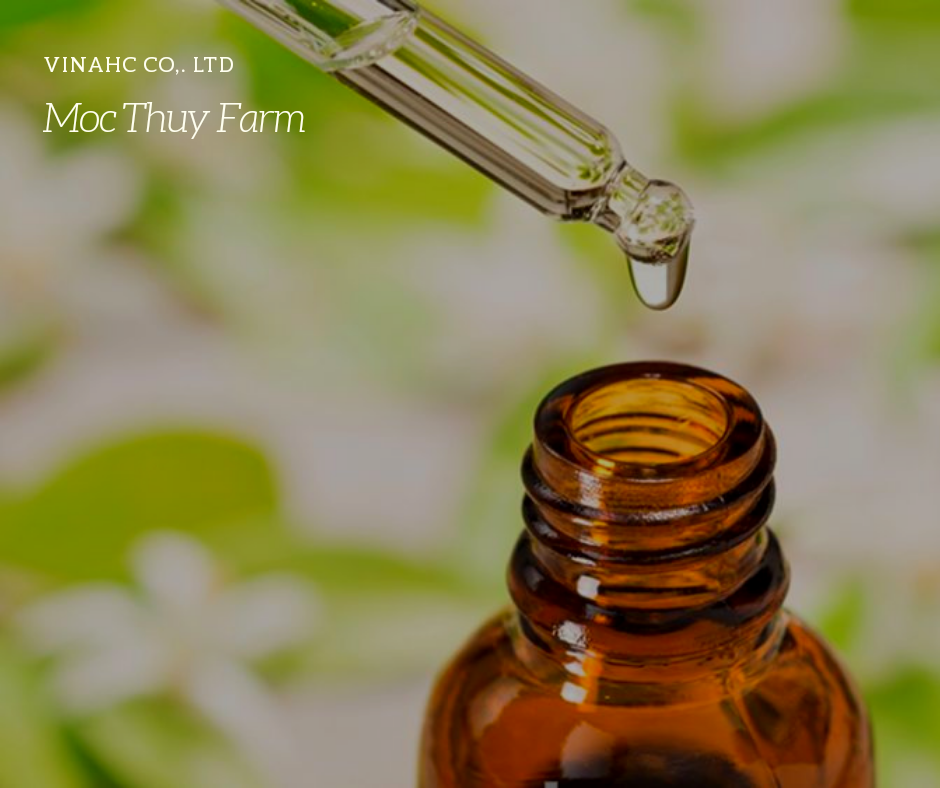 Using for treatment
Doctors have also recognised that substances in citronella can prevent cancer, reduce aging effects and relieve pains. Moreover, it can stimulate one's digestive system and treat symptoms like dyspepsia, eructation, sleep deprivation, etc… Extracted from natural resources, the product is guaranteed to be safe and healthy.
A trusted supplier
Nowadays, even though more and more manufacturers are in the business, not many of their products are well-certified. That being said, we strongly recommend that you should only opt to trusted brands, those that are well-certified in selling and producing cosmetic products for your own safety and well-beings. As the pioneer in the field of planting citronella, manufacturing and selling essential oil, VINAHC COMMERCE AND MANUFACTURE LTD CO, commit to bring you the best products. Moc Thuy Farm, the largest citronella farm in the country, is also in ownership of VINAHC
Moc Thuy Farm is a farm specialized in planting citronella species and producing natural essential oil. Among many citronella species, we concentrate on the 2 most potential ones, which are lemongrass and Java citronella. We also sell citronellas that have been processed such as crushed and sliced citronella.
Advantages of using citronella cultivated by Moc Thuy Farm
Established in 1980, Research Institute for Oil and Oiled Plants (IOOP) has been growing strongly in activities like planting and extracting oiled plants to make organic products for the well-beings of the community. In the past, many researchers saw the potential of oiled plants; however, they cannot maximize their potentials as it was hard to distinguish and categorise which plant is which back then. Now, thanks to the advancement in research, researchers can do make the best use out of oiled plants to make organic products for the well-beings of the community by linking with cooperators and companies.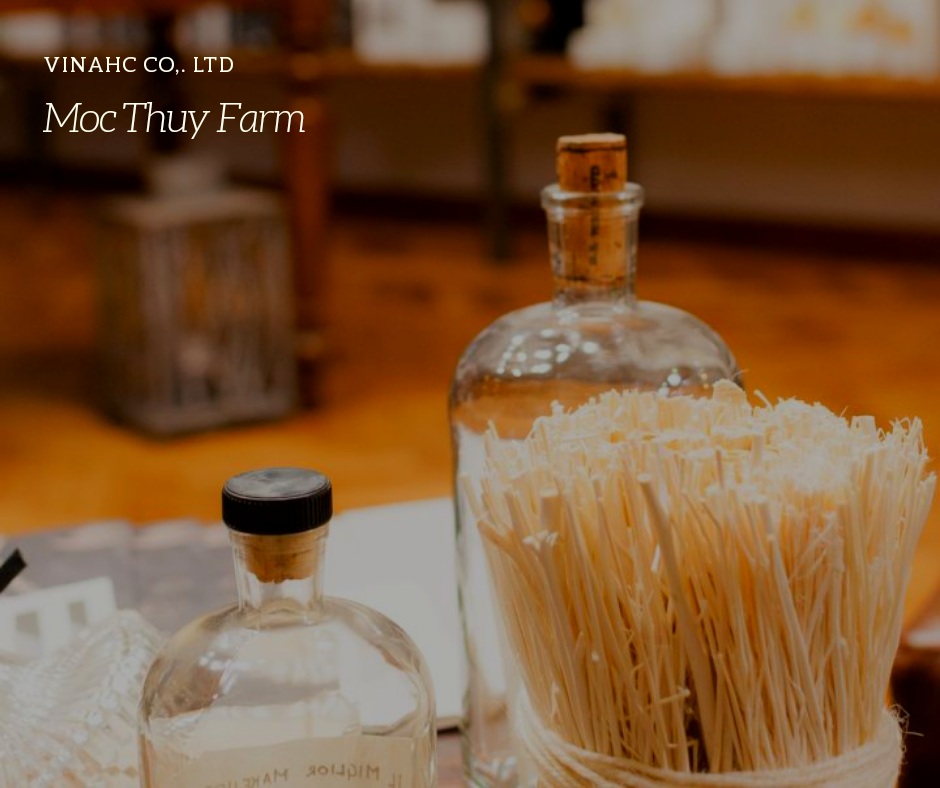 Having inherited such values by connecting people specialised in essential oil, VinaHC was official established in 2017 and has been running until now. We have expanded and opened many more farms for the purpose of cultivating citronella species in including lemongrass, Java citronella, crushed and sliced citronella. As more and more people want to use essential oil, many plants and factories are built in Long An, Vinh Long to produce essential oil.
Having been in the field for a long time, Moc Thuy Farm guarantee that our products are well-certified and purely extract from the best plants.
Purely natural extraction
With the mission to produce quality and healthy products for consumers, essential oil produced by Moc Thuy is purely extracted from natural resources.
In the beginning, VINAHC's staffs always conduct strict supervision on the process of manufacture such as choosing places that have the soil and the climate that fit the most for planting. Fresh and clean ingredients are what make the consumers trust in using Moc Thuy products.
Competitive and reasonable price
Alongside with quality, pricing is also a very concerning matter to most consumers. Having acknowledged such matter, we offer our products with a competitive but reasonable price so that they can all be accessible to them. In addition, we offer many other services for our customers as well.
Modern equipment and advanced technology
So as to improve our quality, we have equipped the manufacturing facilities with modern machineries. A team with more than 37 years of experience that are always passionate to expand the brand to overseas markets as well as ensure safety to consumers. Our first ever priority is to ensure the consumers' safety as well as the products' quality.
Benefits when using Moc Thuy's citronella essential oil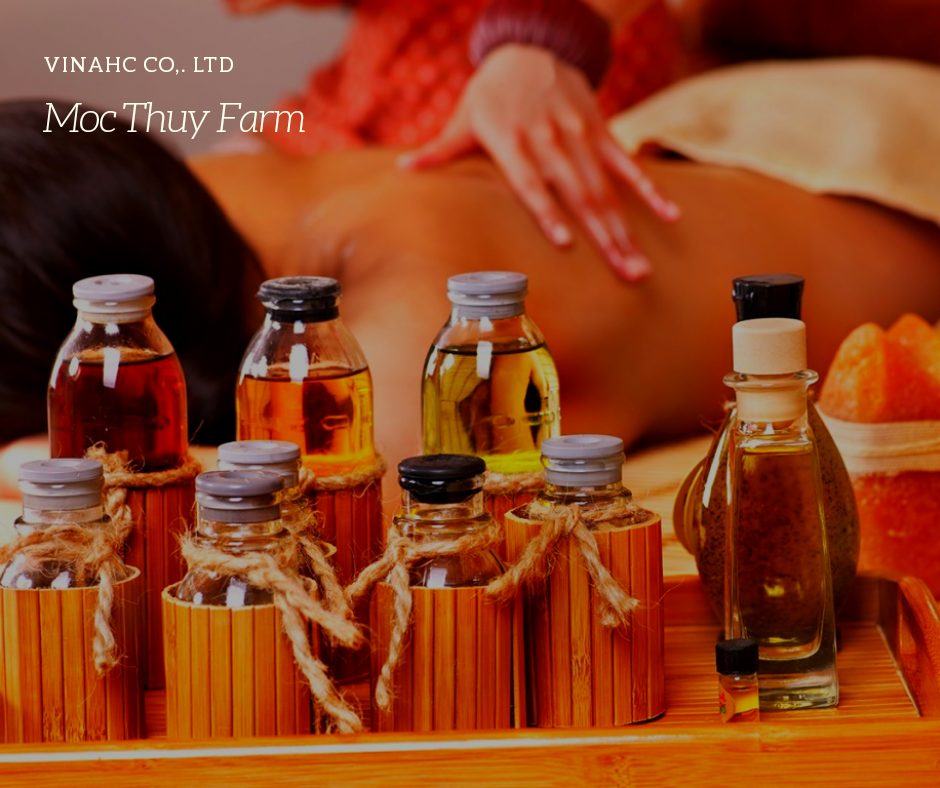 Here are some of the significant effects from our product:
Deodorise bad and unpleasant smells
Protect your skin and reproduce skin cells
Smoothen and protect your hair
Relieving stress and improve sleep quality
Repel inseacts
Detoxicate your body
Improve digestive system and appetite
Prevent cancer
Should you wish to order and purchase our products, please contact to us via hotline number: 0931450333 or go to: https://mocthuyfarm.com/ to get detailed information.