Besides from the lemongrass plant, Java citronella is also a very popular type of plant due to its marvelous and medicinal effects. The following post will provide you with information of where to find and buy this plant.
Moc Thuy Farm – nationwide Java citronella supplier
When talking about manufacturers that produce and supply citronella plants, it wouldn't be complete if we don't mention VINAHC Commerce and Manufacturer Co,. Ltd. Having been running for a long time, VinaHC pledges to bring you the best products.
VinaHC has been running since the establishment of Research Institute for Oil and Oiled Plants (IOOP) in 1980. IOOP has been growing strongly in activities like planting and extracting oiled plants. In the past, many researchers saw the potential of oiled plants; however, they cannot maximize their potentials as it was hard to distinguish and categorise which plant is which back then. Now, thanks to the advancement in research, researchers can do make the best use out of oiled plants to make organic products for the well-beings of the community by linking with cooperators and companies.
We are strict in choosing the freshest and best lemongrass as well as choosing places that have the soil and the climate that fit the most for planting to produce the best products. VINAHC guarantees to supply natural lemongrass essential oil for the well-beings of consumers.
That being said, you can be worry-free about the lemongrass we choose and use for production. As our division always wish to understand your needs and prioritise you more than anybody else, we acknowledge that we have to concentrate more on the manufacturing process to bring you the most quality product you can ever find on the market.
Information about the Java citronella plant
Despite its popularity, lemongrass essential oil is usually mistaken that it is solely made from lemongrass. In fact, it is also made from Java citronella. Originated from Java island in Indonesia; thus, it was named after the island. Nowadays, many tropical countries such as China, India, Madagascar, Thailand and even Vietnam are planting and developing this type of plant.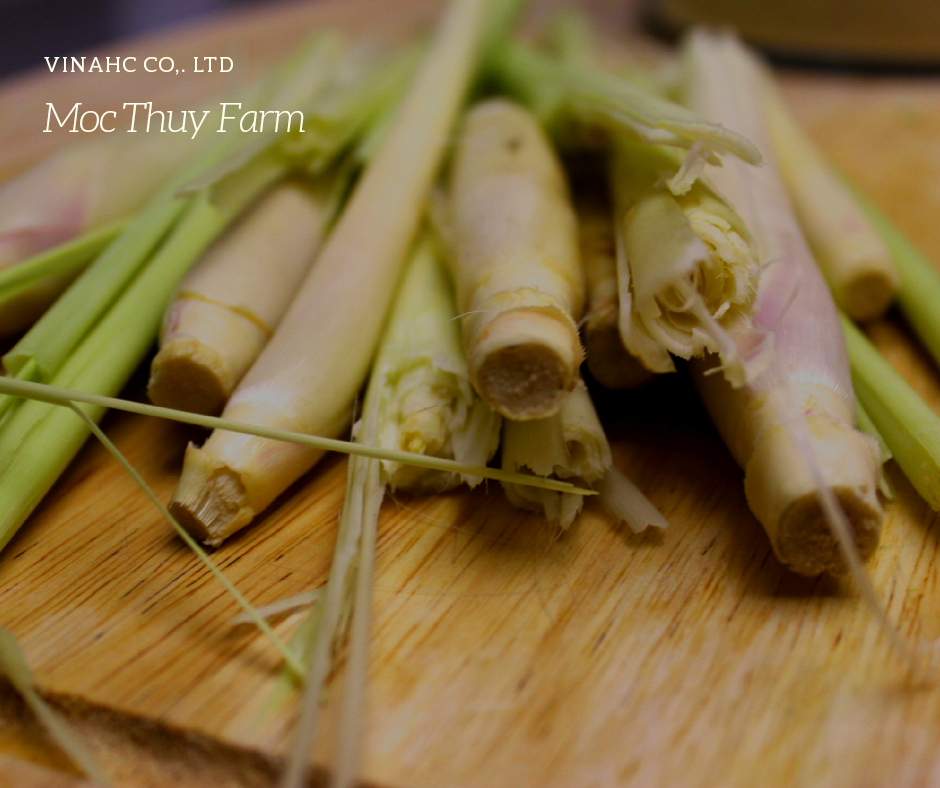 Java citronella normally grow into bushes and its body is 2 meters tall, taller than lemongrass, which is only 1-1,5 meters tall. They also have magenta-colored base stems. When the plants have fully grown up, their leaves will droop. The most distinguishing character of this plant are its purple-ish or prune roots alongside with its stronger scent compared to the normal lemongrass. For that, Java citronella is scarcely used by the Vietnamese in seasoning as its scent can oppress any other smell.
Uses of Java citronella in our daily basis
As said above, Java citronella isn't commonly used as seasoning due to its strong scent; however, it works best when used to extract oil. Of why it is so popular with consumers, it can also be used to beautify your skin and other cosmetic purposes.
Preventing cancer and enhancing digestive system
Java citronella have substances that prevent cancer and enhance digestive system, especially for children. For that, the essential oil also helps to improve one's immune system and health in general. Only 2 to 3 drop into the diffuser or your drinks and daily diets, you will never be worried again about your health.
Relieving pain and period controlling
Java citronella essential oil also helps you reduce pains and aches. Moreover, this can help to reduce pains from periods. Only a few drops onto warm water and then pour the water into a pack and just simply put the pack on your stomach to reduce pains from periods.
The plant's signature sweet and pleasant scent can also help you deplete any fatigue from your daily activities. You will no longer worry about migraines or long-term headaches that can cause drastically bad effects to your health.
Clearing the air and unpleasant smells
Besides from relieving pains, the scent of this plant can clear the air and unpleasant smells so that you can live in a more rarefied air and healthy environment. In addition, just like lemongrass, Java citronella can also kill bacteria to protect your health from illnesses. All you need to do is drop a few oil drops into the diffuser and you will later have clear air in just a blink of an eye.
Furthermore, Java citronella essential oil can repel insects and prevent them from spreading diseases such as malaria and dengue. You can directly apply the oil onto your skin or mix it with warm water and spray the mixture around your house or even your pets.
Skin care and anti-acne
The oil is medically recognised by researchers due to its ability to kill acnes and tighten your skin pores and reproduce your skin to a livelier tone. You can apply the oil to your skin to kill of old skin cells or combining with bathing lotions and shampoos when showering.
Selling Java citronella in HCMC
If you are living in Ho Chi Minh city and you are looking for quality Java citronella plant, we strongly recommend you to come to our stores. A well-qualified and all-around team that are always available 24/7 when you need to bring out the best service for consumers. Additionally, you will be offered many other services.
Selling Java citronella in Ha Noi
Apart from Ha Noi, we have also expanded and opened many branches in the North for convenience. Contact us now and you can get quality Java citronella plants.